This pairing of blueberries and mint looks pretty and tastes fabulous, too. The sweetness of blueberries goes great with the clean, cool flavor of peppermint. It's a simple (and low-cal) joining of two of summer's star flavors.
Chop a few fresh peppermint leaves, and serve over berries in a blow. Or just sprinkle a few whole leaves on top. It's no secret that the deep blue gems, with one of the highest concentrations of age- and disease-fighting antioxidants (like resveratrol), are nutritional powerhouses.
And peppermint is no slouch either- it can relieve an upset tummy by relaxing digestive muscles, and its scent has even been found to curb cravings. Not too bad for a healthy herb.
Cool off with a Smoothie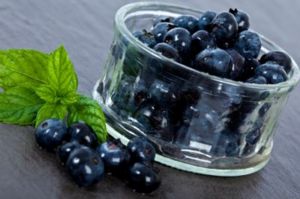 Here's an idea to cool you off, how about putting blueberries, mint and ice into a blender and making a little smoothie:
Makes 1 large or 2 small smoothies.Prep Time: 5 minutesTotal Time: 5 minutesIngredients:
* 1 cup frozen blueberries, preferably wild * 1 cup vanilla soy milk * 1 tablespoon honey * 2 teaspoons fresh mint leaves, rinsed, dried, and torn into small pieces * 2 ice cubes
Preparation:
Place all of the ingredients into a blender, and puree until smooth. Pulse a few times to crush the ice, if necessary. Pour into glasses and enjoy!
Author: Dan R Morris