Man oh man I love dark chocolate, don't you? This organic chocolate chip cookie recipe will make you want to quit your job and make them everyday. Organic baking chocolate is like the best chocolate ever. Man are these yummy!
So let's get to it. Now you can't just go and substitute organic baking chocolate in your regular recipe. To start, it's not as sweet so you need a slightly different mixture. Plus this organic chocolate chip cookie recipe has some other good stuff so it's actually, sorta healthy.
Ingredients
2 1/4 cups whole wheat flour (or pastry flour)
1 teaspoon baking soda
1 teaspoon organic salt
1/4 cup oats, rolled
1 cup (2 sticks) organic butter or sea-salted butter
3/4 c. organic granulated cane sugar
2/3 cup packed organic brown sugar
1 teaspoon organic vanilla extract
2 large organic brown eggs
2 cups (12-oz. pkg.) Organic Semi-sweet chocolate chips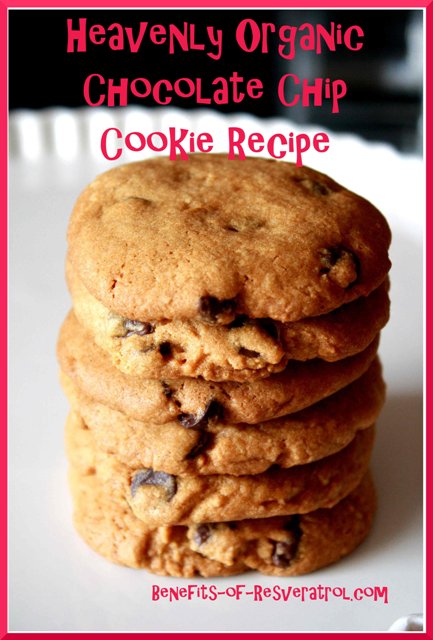 Alright now its time for the good stuff. It's time to make these bad boys.
Start by mixing the butter, cane and brown sugars. Add the vanilla and both the eggs, 1 at a time until fully mixed.
In a separate bowl, mix the flour, salt and baking soda. Then add the oats. If you've got a sifter, this would be the time to use it.
Now's the time to preheat the oven to 350 degrees.
(If you have to, you can store the egg mixture in the fridge till later. Make sure you let it sit till its room temp before you combine the dry ingredients though. You don't want a sticky organic chocolate chip cookie recipe.)
Finally, combine the two bowls. Stir in chocolate chips. Drop by rounded tablespoon onto ungreased baking sheets. Be careful not to over-mix, or you'll end up with dense cookies.
BAKE for 9 to 11 minutes or until golden brown. Cool on baking sheets for 3 minutes; remove to racks to cool completely.
Like this Organic Chocolate Chip Cookie Recipe? See More Recipes now!