Aside from how good this Blueberry Crisp Recipe and blueberry pancake recipe are, blueberries are truly a gift from mother nature. Packed full of antioxidants and other nutrients, blueberries appear on the Super Foods List, are one of the wonderful sources of Resveratrol and are mighty tasty. Enjoy these wonderful recipes!
Blueberry Crisp Recipe
This Healthy Blueberry Crisp (Recipe adapted from The Neelys Serves: 4 to 6 servings
Ingredients
6 cups blueberries, rinsed and lightly dried
1 tablespoon cornstarch
1/4 cup splenda
Pinch salt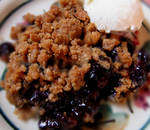 Topping Mixture:
1/2 cup all-purpose whole wheat flour
1/2 cup quick-cooking maple & brown sugar oatmeal
1/4 cup Splenda brown sugar blend
1/4 cup Splenda Sugar Blend
1/4 teaspoon ground cinnamon
1/4 teaspoon ground nutmeg
3/4 cup toasted chopped pecans
1/2 stick room temperature Smart Balance unsalted 50/50 blend, cubed
Blueberry Crisp Recipe Directions
Preheat oven to 375 degrees F.
Toss blueberries, cornstarch, Splenda and a pinch of salt together in a bowl.
Combine flour, oatmeal, Splenda brown and white sugar blends, cinnamon, nutmeg and toasted pecans in a bowl. Add butter and pinch into chunks.
Mix until it looks crumbly. Add the blueberries into a 2-quart baking dish. Top evenly with the crumb mixture. Bake for 40 minutes.
Voila! The Best Blueberry Crisp Recipe Ever!
Healthy Bisquick Blueberry Muffins Recipe
Makes: 12 Bisquick® Blueberry Muffins
2 cups Heart Healthy Bisquick®
2/3 cup Fat Free Milk
1/3 cup sugar
2 tablespoons Smart Balance® oil
1/4 cup Eggbeaters®
3/4 cup Blueberries
1. Heat oven to 400ºF. Place paper baking cup in each of 12 regular-size muffin cups, or grease bottoms only of muffin cups.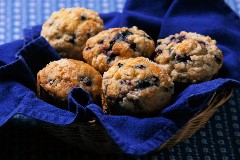 2. Stir all ingredients except blueberries just until moistened. Gently stir in blueberries. Divide batter evenly among cups.
3. Bake 13 to 18 minutes or until golden brown.
(high altitude (3,500 – 6,500 ft) heat oven to 425ºF)
Serve your Bisquick Blueberry Muffins hot with Smart Balance® Spread
Lemon Blueberry Scone Recipe
This blueberry scone recipe makes 14 to 16 scones
Ingredients
4 cups plus 1/4 cup all-purpose whole wheat flour
1/4 cup sugar, plus additional for sprinkling
2 tablespoons baking powder
2 teaspoons kosher salt
1 tablespoon grated lemon zest
3/4 pound cold Smart Balance® 50/50 unsalted butter, diced
1 cup of EggBeaters®
1 cup buttermilk
1 cup dried blueberries
¼ cup of EggBeaters® with 2 tablespoons water or fat free milk, for egg wash
1/2 cup confectioners' sugar, plus 2 tablespoons
4 teaspoons freshly squeezed lemon juice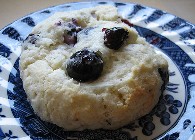 Directions
Preheat the oven to 400 degrees F.
In the bowl of an electric mixer fitted with a paddle attachment, mix 4 cups of flour, 1/4 cup sugar, the baking powder, salt and lemon zest. Add the cold butter and mix at the lowest speed until the butter is the size of peas. Combine the EggBeaters® and buttermilk and, with the mixer on low speed, slowly pour into the flour and butter mixture. Mix until just blended.
The dough will look lumpy! Combine the dried blueberries and 1/4 cup of flour, add to the dough, and mix on low speed until blended.
Dump the dough onto a well-floured surface and knead it into a ball. Flour your hands and a rolling pin and roll the dough 3/4-inch thick. You should see small bits of butter in the dough. Keep moving the dough on the floured board so it doesn't stick. Flour a 3-inch round plain or fluted cutter and cut circles of dough. Place the scones on a baking pan lined with parchment paper. Collect the scraps neatly, roll them out, and cut more circles.
Brush the tops of the blueberry scones with egg wash, sprinkle with sugar, and bake for 20 to 25 minutes, until the tops are browned and the insides are fully baked. The scones will be firm to the touch. Allow the scones to cool for 15 minutes and then whisk together the confectioners' sugar and lemon juice, and drizzle over each blueberry scone. Recipe directions can be modified to suit your sweetness.
Blueberry Pancake Recipe: So Easy, So Good
This Blueberry Pancake Recipe makes 8 pancakes – so triple it!!
1 Cup Heart Healthy Bisquick Mix
2/3 Cup Fat Free Buttermilk
2 Tablespoons EggBeaters®
1 cup of Blueberries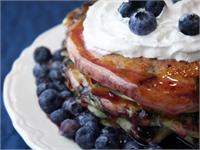 Blueberry Pancake Recipe Directions:
Heat griddle or skillet over medium-high heat or to 375°F; grease with smart balance spray.
 In medium bowl, stir all ingredients except blueberries until blended. Gently stir in blueberries.
Pour batter by 1/4 cupfuls into onto hot griddle. Cook until bubbles break on surface. Turn; cook until golden.
Blueberry Buckle Recipe
This Blueberry Buckle Recipe Makes:1 (9-inch) cake
For the cake:
Nonstick cooking spray
2 cups all purpose whole wheat flour
1 teaspoon baking powder
1/2 teaspoon kosher salt
1/2 teaspoon ground ginger
½ stick unsalted Smart Balance® 50/50 butter, room temperature
¾ cup sugar\
¼ cup EggBeaters®
1/2 cup fat free milk
3 cups fresh whole blueberries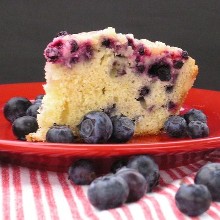 For the topping:
1/2 cup sugar
1/3 cup all purpose whole wheat flour
1/2 teaspoon freshly ground nutmeg
½ stick unsalted Smart Balance® 50/50 butter, chilled and cubed
Blueberry Buckle Cake Directions:
Preheat the oven to 375 degrees F. Spray a 9 by 9-inch glass baking dish with nonstick spray and set aside.
In a medium mixing bowl whisk together the flour, baking powder, salt and ground ginger. Set aside.
In the bowl of a stand mixer, with the paddle attachment, beat together the butter and sugar on medium speed until light and fluffy. Add the egg and beat until well incorporated. Add 1/3 of the flour mixture and beat on low speed just until incorporated and then add 1/3 of the milk and beat until incorporated. Repeat, alternating flour and milk until everything has combined. Gently stir in the blueberries and pour the mixture into the prepared baking dish.
For the Blueberry Buckle Recipe topping:
In a small bowl combine the sugar, flour and nutmeg. Add the butter and work into the dry ingredients using a fork to combine. Continue until the mixture has a crumb-like texture. Sprinkle the mixture on top of the cake. Bake on the middle rack of the oven for 35 minutes or until golden in color. Cool for at least 10 minutes before serving.
Blueberry Skillet Cake
Blueberry Skillet Cake Recipe (Adapted from the book Around the Opry Table)
Cake:
1 Cup Fat Free Vanilla Yogurt
½ Cup Fat Free Milk
2 Tablespoons Sugar
2 (7oz) Packages of Blueberry Muffin Mix
Topping:
½ Cup Sugar
1/3 Cup All-Purpose Wheat Flour
¼ Cup 50/50 Smart Balance Stick Butter, cut into pieces
Blueberry Sauce:
¼ Cup Blueberry preserves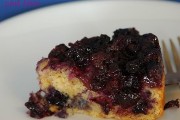 Heat Oven to 350 degrees, grease 10-inch cast iron skillet.
In Large bowl, combine yogurt, milk and sugar; mix well. Add muffin mix and stir till just blended. Spread batter in greased skillet.
In a small bowl mix flour and sugar then cut in butter until it is the size of small peas. Sprinkle over batter.
Bake for 35 – 45 minutes or until golden brown and the cake begins to pull away from the sides of skillet. Cool for 15 minutes.
Microwave preserves just until melted.
Cut cake into wedges and spoon preserves over each individual slice.
Blueberry and Blackberry Galette
Blueberry and Blackberry Galette Recipe (adapted from Cooking Light Magazine)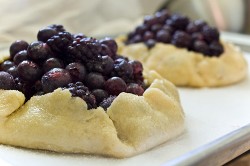 Yield: 10 servings (serving size: 1 wedge)
Ingredients
Pastry:
1 3/4 cups all-purpose whole wheat flour
1/3 cup granulated sugar
1/4 cup cornmeal
1/4 teaspoon salt
1/2 cup cold Smart Balance 50/50 Stick butter, cut into small pieces
1/3 cup fat-free buttermilk
Filling:
4 cups blueberries
2 cups blackberries
1/2 cup granulated sugar
3 tablespoons all-purpose whole wheat flour
2 tablespoons lemon juice
2 tablespoons fat-free milk
2 tablespoons of egg beaters
1 1/2 tablespoons turbinado sugar
Preparation
To prepare pastry, lightly spoon flour into dry measuring cups, and level with a knife. Combine flour and next 3 ingredients (through salt) in a food processor; pulse two times. Add butter to flour mixture; pulse 4 to 5 times or until mixture resembles coarse meal. With processor on, slowly add buttermilk through food chute; process just until dough forms a ball. Gently press dough into a 4-inch circle on plastic wrap; cover. Chill 30 minutes.
Preheat oven to 350°.
Unwrap and place dough on a sheet of parchment paper. Roll dough into a 15-inch circle. Place dough and parchment on a baking sheet.
To prepare filling, combine berries and next 3 ingredients (through juice) in a medium bowl; toss gently to coat. Arrange berry mixture in center of dough, leaving a 2-inch border. Fold edges of dough toward center, pressing gently to seal (dough will only partially cover berry mixture).5. Combine fat-free milk and egg white in a small bowl, stirring well with a whisk. Brush dough with milk mixture; sprinkle turbinado sugar evenly over dough. Bake at 350° for 1 hour or until pastry is golden brown. Let stand 30 minutes; cut into wedges.
Healthy Blueberry Muffins
Blueberry Muffins
Makes Approx 1 ½ dozen
Ingredients:
(1 1/2 sticks) Smart Balance 50/50 unsalted butter blend stick, at room temperature
1 1/2 cups sugar
¾ Cup of eggbeaters
1 1/2 teaspoons lemon juice
1 teaspoons of lemon zest
8 ounces fat free vanilla yogurt
1/4 cup Fat-Free milk
2 1/2 cups all-purpose whole wheat flour
2 teaspoons baking powder
1/2 teaspoon baking soda
1/2 teaspoon kosher salt
2 half-pints fresh blueberries, picked through for stems
Directions:
Preheat the oven to 350 degrees F.
Place paper liners in muffin pans.
Cream the smart balance butter and sugar until light and fluffy. Then add the eggs beaters, vanilla, yogurt and milk. In a separate bowl, sift together the flour, baking powder, baking soda, and salt. Slowly add the flour mixture to the batter and beat until just mixed. Fold in the blueberries.
Scoop the batter into the prepared muffin pans and bake for 25 to 30 minutes, until the muffins are lightly browned on top and a toothpick comes out clean.