Cranberry relishes are such a fantastic source of tart and sweetness for your meal. Whether it be Thanksgiving, Turkey-Chili night or a get together with friends over Tilapia and rice, a good cranberry relish is the perfect side dish.
Looking through our best cranberry relishes, we've discovered recipes for your basic cranberry relish (the first one), to sugarfree, Jello-based, and several that are sure to impress.

Basic Cranberry Relish Recipe (with Organic Option)
Ingredients
2 cups washed raw cranberries
2 skinned and cored tart apples
1 large, whole (peel ON) seedless orange, cut into sections
1 to 2 cups granulated sugar (depending on how sweet you would like your relish to be)
Directions:
This is a home-made cranberry relish recipe, and is going to take a bit more time than buying the ingredients prechopped and mixed.
Chop the fruit. Use the entire orange (including the peels and pith). You can use a grinder, a device like the SlapChop, a knife, a KitchenAid mixer with grinder attachment or even a food processors. No matter what you use, make sure you're not over chopping which will create mush.
Stir in the Sugar until it dissolves in all the fruit juices. And then put it in the fridge.
That's it! Serve it in a clear serving bowl.
Did you know that Oprah Winfrey's cold remedy of choice is freshly squeezed cranberry juice? Fresh cranberries (mixed with some grapes) offers all the antioxidant power of cranberries without the high fructose corn syrup of store bought juices. Learn more about the health benefits of cranberry juice.
source: (http://www.oprah.com/article/health/wellnessandprevention/200912-omag-cold-remedies)

Apple Cranberry Relish Recipe
This is one of the sweeter cranberry relishes. While it doesn't sound exotic, the ginger and walnuts add some pizazz.
Ingredients

8 red firm apples, cored
juice of 1 lemon
1 can whole cranberry sauce
1/2 cup chopped candied ginger
1 tablespoon grated fresh ginger root
1/2 c. dried cranberries
3/4 cup coarsely chopped walnuts
1/2 c. orange juice
Directions
Grate the unpeeled apples (or finely chop them)
Add lemon juice (which prevents them from turning brown)
Mash up the cranberry sauce a little bit
Combine all the ingredients. Set in the fridge for 1 hour

Christmas Cranberry Relish Recipe
We absolutely love this recipe. While Thanksgiving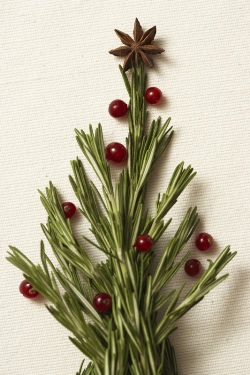 calls for cranberry relishes that are a bit on the tarter side, Christmas is all about sweet. Make sure to make this for your holiday party.
Ingredients
12 ounces fresh cranberries
1 navel orange, scrubbed and cut into 8 pieces
2 apples, peeled and cut into 8 pieces
3/4 to 1 cup natural sugar
A handful of sugared halved pecans
1/3 cup chopped pecans
Directions
Combine half the cranberries, orange (unpeeled), and apple into the food processor and pulse to chop coarsely. You may have to do this two times to get all the fruit chopped. Most food processors aren't big enough to do all this at once.
Put it into a bowl, add the sugar to taste, and mix in the pecans.
Refrigerate it for a day or two to allow the flavors to develop.
Top it with the sugared half pecans to give it a pretty look.
Top it with

Cranberry Relish with Grand Marnier Recipe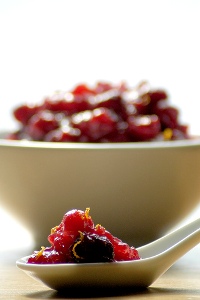 Ingredients
1 pound cranberries
2 apples
2 oranges
1 1/2 cups sugar
1 lemon , juiced (an optional ingredient)
1 can drained, crushed pineapple
2 ounces brandy or Grand Marnier
Directions
This one is so easy so you'll be tempted to try it right away. Resist with all your might. It is so good after it sits that eating some of it before it is totally ready is just a crime.
Ready?
Chop the cranberries, apples and oranges by hand.
Stir in the remaining ingredients
Allow the flavors to flourish over night (or at least an hour)

Chef Paul Prudhomme's Easy Cranberry Relish Recipe

Sour Cream & Cranberry Relish Recipe
Ingredients
2 cups whole raw cranberries, washed
1 small onion
3/4 cup sour cream
1/2 cup sugar
2 tablespoons horseradish
Directions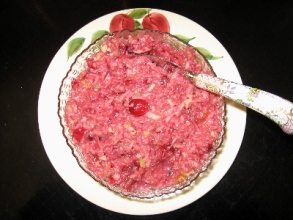 Grind the cranberries and onion together. Make sure you end up with a chunky mix, not a mushy mix)
Combine with the other ingredients and mix
Freeze Overnight
Start thawing 7 hours before your meal
This cranberry relish had a more pudding-like texture. It's creamy, thick, tangy and really, really pink. Your guests will love it!

White Ginger Cranberry Relish
Ingredients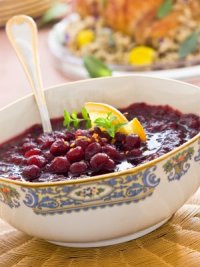 2 oranges
1 cup sugar
2 teaspoons lemon juice
2 teaspoons fresh ginger, cut in fine julienne
1 bag (12 ounces) fresh or frozen cranberries
1/2 teaspoon freshly ground white pepper
Directions
Peel the orange and then slice it into very fine thin pieces.
Squeeze both oranges for juice; set aside.
Carmelize the sugar in a small sauté pan with the lemon juice. Careful to stir often so you don't burn the sugar.
When the sugar is caramel colored, add the julienned ginger and orange peel slices.
Cook for about 1 minute, then add the cranberries, orange juice and pepper.
Continue to cook on medium-high heat, stirring frequently, for about 5 minutes or until the cranberries are slightly broken but not mushy (frozen cranberries will take about 7 minutes).
Remove from the heat and let cool.
Voila!

Pomegranate Cranberry Relish
Of all ingredients on this entire page, you may have trouble finding Pomegranate in your grocery store during the holiday months. It's not because they're not available – but because they add so much holiday merchandise – it's hard to keep room for everything.
Ingredients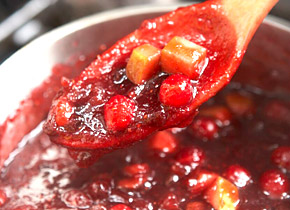 2 12 cranberries
one orange washed well (don't peel)
0ne apple washed and cored
1 1/2 sugar
1 cup pomegranate,cranberry juice
1/4 c fresh ground nutmeg
2pk unflavored gelatin
Directions
Grind cranberries, orange and apple in the food processor.
Put all ingredients (including the gelatin) in sauce pan and bring to slow boil cook for 10 minutes adding fresh nutmeg.
Let cool. The gelatin will "form" as it cools. Kids love this recipe.
Have you noticed that many of these cranberry relishes use Ginger?

Apricot-Cranberry Relish Recipe (+Leftover Cranberry Smoothie)
Of all the cranberry relishes, this is the one I'd most likely stick in the blender the day after Thanksgiving and turn it into a Cranberry Relish Smoothie. 🙂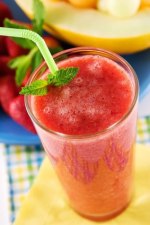 Ingredients
1 cup orange juice
1/2 cup plus 2 tablespoons honey, divided
1 (12-ounce) package fresh or frozen cranberries
1/2 cup finely chopped dried apricots
1/3 cup finely chopped green onion
1/4 cup finely chopped crystallized ginger
Directions
Combine orange juice and 1/2 cup honey in a saucepan; bring to a boil.
Add cranberries, bring to a boil, and remove from heat.
Drain and let cool.
Combine cranberries, 2 tablespoons honey, and remaining ingredients in a medium bowl.
Let them stew in their own juices in the fridge overnight – then serve.
Leftovers
The next day, put the leftovers in a blender with some frozen berries, a small yogurt and some ice! Enjoy!

Author: Dan R Morris
Our Visitors Best Cranberry Relishes and Stories
Click below to see our reader's stories AND maybe your new favorite cranberry relish recipe.
Highbush Cranberry Jelly Not rated yet
Part of my childhood I spent in Anchorage, Alaska. That's a wonderful place to be a kid, but to this day I wish I had been older so I could have appreciated …
From Cranberry Relishes to Home Page
If you don't have a story or recipe for us, Sign Up Today for Our Antioxidant Super Foods Newsletter.
Not Only Will You Receive Free E-books With
Recipes Like These, But Information
About The Healthiest Foods
on the Planet!