So did you think you'd be reading about Japanese Knotweed and Resveratrol today?
While they both may be new terms to you, hundreds of thousands of people wake up everyday with them on their minds. Some consider this Knotweed to be an invasive plant, others bask in its medicinal properties.
According to Wikipedia, Japanese Knotweed goes by many other names as well including: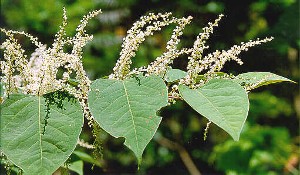 fleeceflower, Himalayan fleece vine, monkeyweed, Hancock's curse, crimson beauty, Reynoutria, elephant ears, pea shooters, donkey rhubarb (although it is not a rhubarb), sally rhubarb, Japanese bamboo, American bamboo, and Mexican bamboo (though it is not a bamboo).
In Japanese, the name is "itadori", and is used in making itadori tea.
Consuming Japanese Knotweed
Because it grows in most any condition, bee farmers find bees love its flowers and the honey that comes out, often called Knotweed Honey or Bamboo Honey, is a lot like Buckwheat Honey.
The stems are actually edible and taste a bit like rhubarb. Many recipes can be found to make dishes that traditionally call for Rhubarb.
Japanese Knotweed and Resveratrol go hand in hand. In fact, next to Red Wine, it is the #1 alternative source of Trans-resveratrol. It's scientific name "polygonum cuspidatum" can be found on resveratrol and antioxidant supplements because it makes a better source for supplement makers than grapes or wine.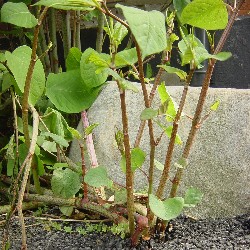 Buy Japanese Knotweed
Find a place to buy Japanese Knotweed is difficult due to resveratrol's current popularity. A few years ago it was to be found in most places that sold nutrients en masse to the pill manufacturers. Now, all the big companies have contracted it all.
We did find a couple places to buy Japanese Knotweed root. They are in dried root form; they suggest you dissolve it in hot water to make a tea. I think you'll find the idatori tea recipe below more palatable, being made from the stems and leaves – but it's worth a try:
Itadori Tea; A Great Source of Trans-Resveratrol
Major dietary sources of resveratrol include grapes, wine, peanuts, cranberries and blueberries. However, since resveratrol is absorbed best in the mouth through buccal absorption, it is best introduced to the diet through red wine, liquid nutritional supplements or Itadori tea.
Itadori Tea has been used in Japan and China as a traditional herbal remedy for heart disease and strokes (and as a natural laxative). The Journal of Agricultural Food Chemistry studies state that, "For people who do not consume alcohol, Itadori tea may be a suitable substitute for red wine."
While it is extremely difficult to buy Itadori Tea, it can be easily made.
Knotweed Tea (Itadori Tea) Recipe
For some people getting a hold of some J. Knotweed will be easy, for others you may have to search around or ask local botanists. (See the video below to get a good idea what it looks like if you're going to go hunt for it)
Since it is mainly considered an invasive plant, your local botanist or landscape architect will likely know where you can get some for free. Once you do, make this fantastic Itadori Tea Recipe.
The recipe was provided to us by Gerry and Len Janus who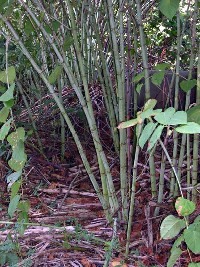 recently retired from Vileniki-an Herb Farm.
They have made frequent appearances on televised garden programs and are well known for their expertise in identifying wild plants and their uses. They lead nature walks, offer programs, seminars and workshops, conduct programs for the Audubon Society, Nature Conservancy , and Pennsylvania state parks. We are grateful for their help.
ITADORI TEA RECIPE
1. Gather knotweed shoots, very young knotweed shoots make better tea. If you use tough knotweed stems, coarsely chop or break, using kitchen shears.
2. Cover with cold water, then bring to a boil. Reduce Heat and Simmer for 20 minutes.
3. Strain and add sugar to taste. Chill before serving.
4. Fresh Strawberries or crushed raspberries may be added (but aren't necessary). Strain again to remove seeds.
Japanese Knotweed as an Invasive Plant
J. Knotweed is a lot of different things to different people. To much of the United States, it is an invasive weed like Kudzu. Because it can grow in most any conditions, highway transportation departments and farmers find themselves fighting it.
It is currently banned from growing or importing in the United Kingdom and is on the invasive plants list in Alaska, Ohio, Vermont, Virginia, New York, Alaska, Pennsylvania, Oregon and Washington State and others.
While some farmers fight it, other farmers find it controllable. In fact, some plant it to keep other invasive weeds like Kudzu from taking over their crops. J. Knotweed grows fast enough and is aggressive enough to keep other weeds in check.
The only thing that kills it for sure is a shovel. But be thorough, it can restart growth from the roots alone should it be cut or partially dug up. Many say planting it is not worth it.
From Japanese Knotweed and Resveratrol to Sources of Resveratrol