Beyond crafts, there are many culinary uses for peanuts. We've searched the web for all kinds of crazy ideas. If you think of anymore, please go to the Contact Us Page and tell us about them. We'll be sure to post your ideas and credit you for the good idea!
To start, peanuts can be an excellent snack. They contain lots of healthy nutrients , but no matter how healthy they are they've got a lot of calories. A single cup has 900 calories in it which is like eating a great big meal at McDonald's.
So instead try to limit yourself to 30 peanuts and stick with the raw ones, not the processed, glazed or salted ones. I mean if you're really eating them for the health benefits, than just get one of these supplements. Click Here!
Here are a Few Uses for Peanuts. . . in the kitchen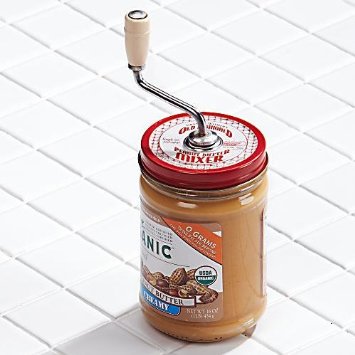 Natural Peanut Butter Jar Top Mixer
Sprinkle a handful of peanuts over your salad at lunch.
Simply enjoy a small handful of peanuts as a healthy snack
Enjoy a handful of dry roasted peanuts with a glass of tomato juice as an afternoon snack.
Toss cooked brown rice with sesame oil, chopped peanuts, scallions, sweet red pepper, parsley and currants.
Add peanuts to healthy sautéed chicken and vegetables.
Mix ground peanuts, water and sugar in a blender for a great, healthy shake.
Try this Mango Peanut Salsa Recipe:1 avocado, 1 jalapeno,1/4 slivered onions, 3 tbsp lime juice, 1/4 tsp salt, 2 tbsp chopped mint AND 1/4 cup chopped peanuts
Make a simple southeastern Asian salad by combining sliced green cabbage, grated ginger, Serrano chilis and peanuts. Toss with olive oil-tamari dressing.
---
Banana Peanut Bread Recipe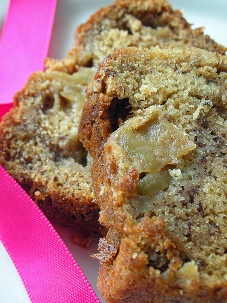 This bread is fantastic. While I love to eat banana bread warm with melted butter, I love Banana Peanut Bread sliced thinly, butter spread on one and then turned into a sandwich. (This is definitely one of the better tasting uses for peanuts)
1/4 cups butter or margarine – softened
2 cups sugar
4 eggs – beaten
4 1/4 cups flour
1 teaspoon salt
4 teaspoons baking powder
1/2 teaspoon baking soda
8 ripe bananas – mashed
1/2 cup roasted and unsalted peanuts – coarsely chopped
1/2 cup white sugar
1 teaspoon cinnamon
In a large bowl, cream together the butter and sugar. Add the eggs and beat to combine. In a separate bowl, stir together the flour, salt, baking powder, and baking soda.
Combine the flour mixture into the butter mixture folding in the bananas and peanuts.
Pour the batter into the prepared pan and bake for 30 minutes at 200 degrees, or until a wooden skewer inserted in the center comes out clean. Remove from the oven and allow to cool on a wire rack.
Stir together the 1/2 cup sugar and cinnamon. Sprinkle the sugar mixture over the top of the cake as soon as you remove it from the oven.
Makes 1 – 9×13 cake
---
And Here Are 20 More Uses For Peanut Butter
1. Spread a thin serve of nut butter on your morning toast, your morning waffle, mid-morning crackers or bagel. Use it alone or combine ¼ cup of peanut butter with ½ cup maple syrup.
2. Snack on celery sticks with nut butter for an afternoon pick-me-up.
3. Combine peanut butter, coconut milk, and ready-to-use Thai red or green curry paste for a quick, delicious sauce. Pour over healthy sautéed vegetables. Use as a cooking sauce for tofu or salmon.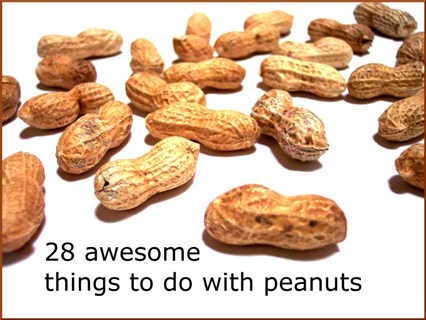 4. Instead of a peanut butter and jelly sandwich, try peanut butter and banana, peanut butter and honey, or peanut butter and chopped apple, pear and/or raisins.
5. Add a tablespoon of peanut butter to your morning smoothie.
6. Creamy peanut butter can be used instead of shaving cream in a jam. Creamy works best. 🙂
7. Work creamy peanut butter into your clothing or hair to remove the sticky gum. The natural kind where the peanut oil is floating on top works best.
8. Peanut butter can be used to remove adhesive labels from jars and cans, too.
9. Instead of suet, use peanut butter stuffed into a pine cone and rolled in seeds as a bird feeder.
10. Peanut butter is an excellent lubricator. Wherever you would normally use WD-40, lather on some peanut butter. (One of most creative uses for peanuts)
11. If you hate the smell of fried fish in the kitchen, fry up some peanut butter after dinner and the peanut odor will take over. (Buyer beware! I did this last night and the peanut smell TOOK OVER!)
12. Peanut butter is an excellent cleaner for leather.
13. Did you know that most recipes that use butter can be cooked with peanut butter instead. You can also stir peanut butter into a sauce instead of butter to give it a nutty finish.
14. If you own a cat or a dog, or have small children, you will know how hard it can be to get them to take their medication – especially when it is in pill form. Fortunately, if you mix the pill in with the peanut butter – problem solved.
15. Make a quick and easy sauce for rice or vegetables: Heat together ½ cup peanut butter, 1 ½ cups water, ½ cup sautéed onions, ½ tbsp apple cider vinegar, and a dash of tamari and cayenne pepper. Try this on leafy green vegetables for an authentic taste of African cooking.
16. For Asian noodles, stir together and heat ½ cup veggie broth, 1/3 cup peanut butter, 3 tablespoons teriyaki sauce, 2 tbsp brown sugar, 1 tbsp lime or lemon juice, and a dash of cayenne. Toss with whole wheat noodles and shredded carrots.
17. Fill a whole wheat pita pocket with peanut butter, shredded carrots and cucumber slices or sweet pickles.
18. Top open-faced peanut butter sandwiches with slices of crisply cooked tempeh bacon.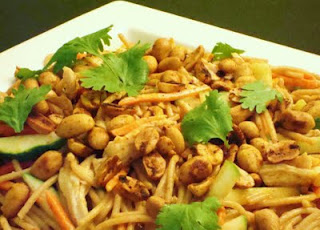 19. Mix one tablespoon of peanut butter into a serving of oatmeal for a breakfast that will see you through the morning.
20. And lastly, one of the strangest uses for peanuts (yet really tasty)- For a great appetizer, spread peanut butter on Ritz crackers and top with a dollop of prepared horseradish.
Tips for Preparing Peanuts
Chop Peanuts by hand using a chef's knife and a cutting board or in a bowl with a mezzaluna or ulu, the curved knife that has a handle sitting atop the blade.
The best way to chop peanuts in a food processor is to place a small amount in at a time and carefully use the pulse button until you have achieved the desired consistency. Don't grind them too much or result may be more like chunky peanut butter than chopped peanuts.
To make your own peanut butter, place the peanuts in the food processor and grind until you have achieved the desired consistency.
That peanut butter mixer we advertised above is a great way to remix the "natural" peanut butters you can buy. Sometimes we avoid buying those because of the hassle of mixing. But with all the uses for peanuts that we've talked about, you might as well buy the good stuff. More Healthy Uses For Peanuts