Torrontes' 2008 Yellow + Blue Organic Wine Review
As you requested. . . another Torrontes Organic Wine Review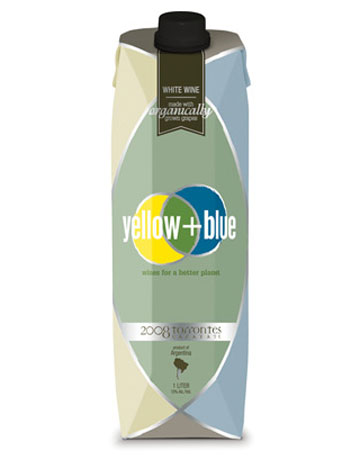 This wine is not only organic but it also comes in a box but it is no ordinary box. It is a Tetra Pak® which means they are lighter, take up less space, made from 75% paper, recyclable and carry a full liter of wine. Typical wine boxes carry 750ml which means the Tetra Pak® two more glasses of wine.
Since it is more cost effective for the winery to have the wine packaged in a box they can sell it at a lower cost. So we are helping the environment and our wallets.
This is great but the real question is how does it taste? Surprisingly good. It is a crisp dry wine that is similar to a Voignier with a slight peach taste on the palate. It is the perfect summer wine to drink by itself on the patio and can be paired with lighter foods easily.
Take it to your next crab boil or use it to make white sangrias. You can also make a baby green salad with grilled peaches or roasted pears, walnuts and parmesan cheese then make vinaigrette using this wine.
Anyway you decide to drink it you will not be disappointed.
2009 Yellow+Blue Certified Torrontes Organic Wine Review

We really enjoyed this wine. It was a little peachy, not very dry, and smooth. The packaging was great and the screw top helped it from spoiling too quickly. It was the perfect spring wine and would make a wonderful White Sangria. It paired wonderfully with grilled tilapia in a chimichurri sauce.
So this Torrontes Organic Wine review wouldn't be complete without telling you a little bit about Yellow + Blue. One of the best attributes of Yellow + Blue Wines is their northern origins. I know that doesn't sound like a positive, necessarily, but it's the greatest thing that can happen to a grape.
The Torrontes Grape
When a grape grows in adversity like cold weather, fungus, bugs. . . it creates this chemical to fight off potential disease. This chemical is called "resveratrol".
Now Torrontes is a white wine grape grown in Argentina. While the torrontes grapes is chock full of resveratrol, white wines don't get the benefits because white wine skins are discarded during the wine making progress. So, while this wine is tasty it isn't
This comes direct from the Yellow and Blue Website and really explains what makes the Torrontes grape amazing: "Cafayate Valley has some of the world's highest-elevation vineyards, typically at 5,500 feet. (In comparison, a high elevation vineyard in California is 1,500 to 2,200 feet.) Such an elevation guarantees diurnal temperature extremes, where afternoon temperatures plummet at night, typically from the mid-80s during the day to the mid-50s at night. This preserves acidity, which would otherwise "bake out" during warm nights.
The valley sees little rain (three to six inches a year) and tremendous sunshine. Surrounded by the Andes Mountains, the vineyards are irrigated thanks to ample water from mountain snowpacks. Because the Cafayate Valley is so dry, it lends itself easily to organic vineyard practices."
Without knowing what make the Torrontes grape great, this would be far less than a useful Torrontes organic wine review.
Author: Dan R Morris
From this Torrontes Organic Wine Review to our Other Organic Wine Reviews