Traditionally yucca root recipes have been of Central American or Caribbean origin. But as more foods become available in the north, yucca root recipes are starting to take hold. Whether it's called Yucca Frita or Cassava, more and more Mexican restaurants are serving this tasty dish.
Here we've chosen a few, more "gourmet" recipes. Oh yeah, we're including them on this site because the Yucca Root is a source of resveratrol, as are peanuts, grapes and chocolate.
Bon Apetit!
Yucca and Butternut Squash Recipe
Watch this Florida International University's kitchen prepare some yucca root recipes. Today, they're making a Yucca and Butternut Squash Recipe featuring a Pecan and Cippolini Onion Mash

For the pecan and cippilonni onion mash recipe, these are the ingredients you will need:
1 medium butternut squash
1 lb. of yucca
½ cup of cream
4 oz. of butter (or buttery substitute like "I can't Believe it's not Butter")
2 tablespoons of brown sugar
Some Salt and pepper
For the pecan and onion topping, you'll need:
4 oz. of pecans
4 oz. of cippolini onions
1 tablespoon of butter (or buttery substitute like "I can't Believe it's not Butter")
1 tablespoon of extra virgin olive oil
2 finely cut sage leaves
1/8 of a tablespoon of nutmeg
2 tablespoons of brown sugar
A small pinch of cayenne pepper
1 tablespoon of cider vinegar
Preheat the oven to 350 degrees. Boil salted water in large pot.
Cut in half and seed the butternut squash. Place the squash halves on a tray and rub with 2 oz. of the butter. Then sprinkle with the brown sugar, salt and pepper. Place that in the oven for approximately 30-40 minutes or until fork-tender but not brown.
In the meantime, peel and quarter the yucca. Remove the fibrous center. Then cut the yucca quarters in half and cook in boiling water until fork-tender. Heat the cream and remaining 2 oz. of butter in a saucepan, but do not boil. Once the squash and yucca are cooked, combine them, add cream and butter mixture little by little and mash until smooth. The mixture can be further processed with a food processor or hand mixer to create a smoother mash.
Season with salt and pepper to taste.
For the topping, peel, halve and cut the ends of the onions. Place the pecans in a sautéing pan on medium low heat and toast for 1 minute (being very careful not to let the pecans burn). Add the butter, olive oil and cippolini onions. After 2 minutes, add the rest of the ingredients, excluding the salt and pepper, and continue cooking for approximately 8-10 minutes until the onions tender and caramelize (look for a golden-brown color).
Finally, season with salt and pepper to taste. Serves 4
Top your mash with the topping, serve and enjoy.
Baked Yucca Fries Recipe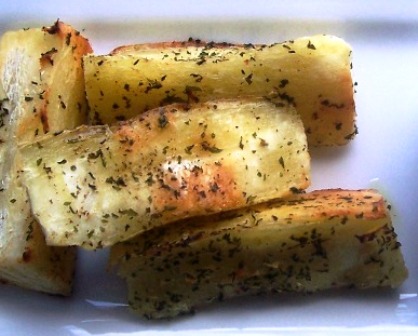 Alright, if you're going to be making yucca root recipes, then get some roots and put them in the pantry. For this recipe, you're going to need:
3 to 4 large yucca roots (peeled and sliced into long strips)
Extra Virgin Olive oil
Sea salt and pepper
A little lime juice for flavor
Let's get started. Go ahead and preheat the oven to 450 degrees.
Over high temperature, heat salted water till boiling. Place the yucca root strips in the boiling water for 15 to 30 minutes until tender.
Pour the boiling water out, and put the yucca root under cold running water to stop the cooking. When the yucca is cool enough to handle, cut the strips in half and remove the fibrous center
Then cut them down to thick french fry size.
Now you get to cook them again. Nothing easy about yucca root recipes. Lightly toss yucca with olive oil, salt, and pepper. Place yucca fries onto a foil-lined baking sheet and bake for 10 to 12 minutes.
Pull them out, then toss in olive oil again and bake for another 10 to 12 minutes. This will get them crispy.
Remove from the oven and squeeze fresh lime juice over the fries. They're really good with peanut sauces, jack daniels spicy ketchup or horseradish mustard.