Learning how to grow blueberries is not difficult. Did you know that one of the most versatile plants for your home garden and/or landscaping is a blueberry bush?
Sounds crazy I know but let me explain; when you look for garden plants you normally think of tomatoes or other vegetables every year. But planting a blueberry bush is forever; it's a perennial instead of an annual which means it will be around year after year.
The first thing they'll tell you when you learn how to grow blueberries is they will not bear fruit the first 1-3 years and do not become fully productive until about the sixth year but after that the Blueberry bush will produce up to 8 quarts of antioxidant rich berries for 15-20 years before it will slows down in production.
If you want bigger berries and a higher yield of berries then you should consider planting blueberries of different types so that you can get some cross pollination. You will still get blueberries if you do not cross pollinate just not as much.
Planting blueberries also makes a great landscaping bush because it requires little space, produces beautiful white flowers in the spring along with the green foliage. To help stimulate the growth of the bush you should remove the blossoms for the first two years. Then in the fall after it produces its fruit the leaves change to a beautiful reddish color plus you do not need to prune them for the first three years.
Planting Blueberries: Your Soil
The soil's ph is something thing that you will have to look into. Planting Blueberries require a low pH AKA acidic soil (somewhere in the 4.5 – 5.5). You will want to test the soil before you plant. Sany, organic or peat soils are preferred.
Some easy natural ways to change the ph is to add coffee grounds, peat moss, compost and manure to the soil. You'll need to add at least one quart pail of peat moss per plant mixed thoroughly with the soil. Leaf mold, rotted saw dust or compost are good mulching materials. Chemically, you could add granular sulfur, ammonium sulfate, or rhododendron fertilizers.
In some areas, it might be easier to plant the bushes in a raised bed in order to maintain soil acidity. This planting technique also improves drainage; blueberries have a shallow root system and while the soil should be kept moist, the roots will rot in standing water.
Mulch will help to both retain moisture and control weeds. (A mulch of pine needles will also contribute to the acidity of the soil.) As with most plants, mulch should be kept away from direct contact with the stem of the bush.
The blueberry plant is a very shallow root plant, keep that in mind when you weed or cultivate the soil. Blueberries are very hardy, but care must be given to them to produce superior results.
Pruning is not necessary the first or second year after planting, but will need so in subsequent years for the purpose of:
Removing Dead or Broken Branches
Removing thin, bushy wood that accumulates near the base in mature bushes.
Removing old stems or part of stems which have lost their vigor and no longer produce vigorous new shoots
To thin and shape the bush by removal of a few of the older canes
Try Growing Your Blueberries in Pots!
Planting blueberries requires acidic soil as we mentioned above. Well, the soil in a pot is easily managed and, in fact, of the fruit plants, blueberries are probably the easiest of all fruits to grow in a container.
Ed Laivo of HGTV recommends a mixture of three parts potting soil ,one part perlite and one part ¼ inch pine bark. Perlite is great for keeping the soil oxygenated and the *pine bark adds organics to the soil. Organics break down easily and provide the soil nutrients over long periods of time.
*FACT: Pine bark is a source of OPC's, which like Resveratrol, is a powerful antioxidant also found in grapes and red wine.
If you're planting an orchard in pots on a patio, you surely have easy access to water, and that is a good thing, because your fruiting plants, once new growth starts in the spring, and on until the harvest is over, will need regular watering. Mulch is good – attractive, keeping down weeds, and holding in the moisture. Never let these fruiting plants dry out completely.
Harvesting Your Blueberries
Planting blueberries was the hard part, in July blueberry harvesting begins. If birds in your area are going to be a problem, make sure to put nets over the plants prior to the berries turning blue (birds don't wait till they're nice and juicy).
Blueberry bushes produce pretty white to pinkish blooms in the spring (see photo), but they're smaller than peas so you may not notice them at first.
Just because you've learned how to grow blueberries doesn't mean you've mastered picking them. So don't get too excited and pick them as soon as they're blue. Leave them on the plant for 5 more days so that they can attain their full size and allow for the sugars to develop.
The berries should drop easily into your hand. Now don't pick 1,000 of them and but them into your bucket. Blueberries are relatively delicate – piled too high and they'll get squished. Fresh berries should not be washed until ready to use and will keep in the refrigerator for at least a week; they also freeze quite well.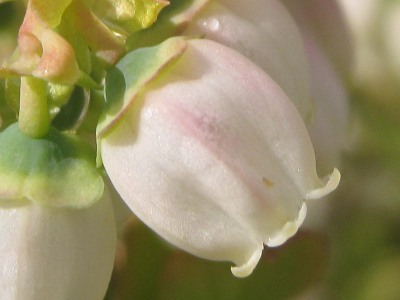 Pick the berries as soon as they're ripe, this will help ensure that the remaining berries reach their desired size. I read in The Weekly Northside Sun that "pruning the berries" or picking them right away isn't necessary on the Rabbiteye Blueberry variety. That Northside Sun article is great to learn more about planting orchards in pots.
Growing the Right Blueberry Type
Now to figure out which type to blueberry bush to buy; there are a lot of different varieties of blueberry bushes to choose from just make sure that if you pick a bush that is a hybrid it will need to be cross pollinated with another blueberry bush. This is something that does not need to be done with the older varieties.
There are three main types of blueberry bushes: highbush, rabbiteye and southern highbush. If you live in a norther place like Ohio you should only planting blueberries of the highbush variety. If you live in the south then only plant the rabbiteye and the southern highbush.
Fall or spring are ideal seasons for planting blueberries. Select two- to three-year-old, field-grown, bare root or container-grown plants, and locate them in full sun. If buying container-grown bushes, try to remove the container soil from the roots when planting. This helps to prevent the roots from drying out in compacted container soil.
Blueberry bushes are easy to find in your local garden centers in the spring or you can order them from the internet. They will vary in price from $15 – $35+ due to the age and size of the plant. So, now that you know the basics of how to grow blueberries, find a spot, grab a soil tester and get started on enjoying your own homegrown blueberries.