These nonalcoholic drink recipes are not just for kids. Sure, kids and adults alike love to get pink frothy drinks with umbrellas sticking out of them. But for many people nonalcoholic drinks are a way to get some of the health benefits that drinks like wine provide.
So let's look at some nonalcoholic drinks that are both fun and offer some health benefits.
Black and Blue Shooter Recipe
The black and blue shooter is a great nonalcoholic drink recipe because it's both tasty and healthy. If you look at our Super Foods list, you'll see two of these ingredients on the list: honey and berries.
Ingredients:
1 cup mixed berries (frozen berries are fine)
1 cup soda water
2 tbsp honey
1 tsp lemon juice
Put all those in a blender, blend till smooth and then pour. That's it. What makes this drink good is the fun berry taste and color.
Steeped Cranberry Ginger Punch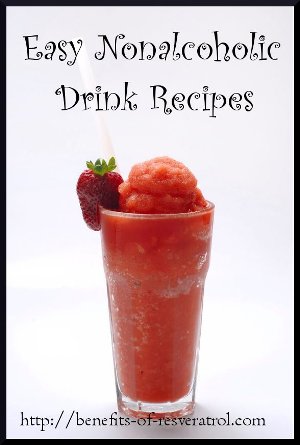 Ingredients:
2 cups water
1/2 cup fresh ginger (sliced thin)
1/2 cup fresh cranberries
1 cinnamon stick
1/2 cup cranberry juice
mint leaves for garnish
For this recipe you're going to first make a cranberry ginger tea. So put the cranberries and the ginger in a pot that has a lid and pour the water over it. Then put the cover on and let it steep for 20 minutes. At the end, you could add some sugar you'd end up with a nice tea.
However, to turn this into a fun drink, pour the water off into a pitcher add the cinnamon stick and cranberry juice and stir. Serve chilled over ice cubes.
To make it pretty, garnish with the mint leaves. This drink features cranberries which are a great source of resveratrol.
Chocolate Blue Freeze
There's nothing better than a chocolate malt or shake on a hot day. But why go with ordinary when you can really mix it up and try something extraordinary. There's two ways to make this nonalcoholic drink recipe. You can choose the quick 'n dirty method or the rich 'n healthy alternative.
Here's the quick 'n dirty:
1 cup ice cold milk
1 cup frozen blueberries (don't get mixed berries)
1 packet Nestle hot chocolate mix
1 squirt of chocolate syrup
1 cup of ice
The idea here is fast and fun. So throw all that into a blender and pour it into a tall glass with a straw. You'll have to adjust the amount of ice to your preference.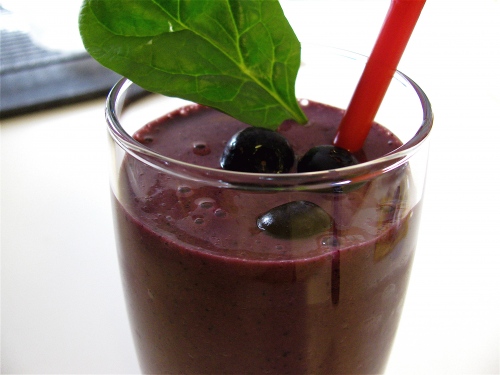 Ok, so here's the rich 'n healthy version:
Ingredients:
2 cups milk (that doesn't change)
1 cup fresh blueberries (that you froze overnight)
3 tbsp powdered dark baking cocoa
1/2 cup honey
1/3 cup sugar
On the stove slowly bring the milk to steaming and add the hot cocoa in small sprinkles. Once the cocoa is completely stirred in, reduce the heat to nothing and stir in the honey. Once the milk is warm enough to taste, add in the sugar till you deem it perfected. Refrigerate.
Pour the gourmet cocoa into a blender with ice and the blueberries. Then pour into a tall glass with a straw.
Nonalcoholic Sangria
Traditionally sangria features wine, but we're talking about nonalcoholic drink recipes here. (We do however talk a bit about nonalcoholic wine as well).
Ingredients:
2 cup club soda or seltzer water
1 1/2 cup cranberry-grape juice
1 cup orange juice
1/4 cup fresh lemon juice
1/2 fresh orange, sliced
1 apple or peach, sliced
1 pear, sliced
1/4 cup honey
Here's what you do with that:
For the biggest bang I'd make this in a large pitcher and then transfer it to a "serving bowl" later. What's nice is to have frozen fruit slices in the bowl. That means you either cut some slices and freeze them, or after you steep the liquid you freeze the slices you already made.
So in the pitcher combine everything but the carbonated liquid. You'll need to stir it a while to make sure that honey actually dissolves in the pitcher. Then put the pitcher in the fridge for a few hours to "super chill".
Then just before you serve and perhaps as part of the presentation, add the seltzer water and frozen fruit slices.