New York State Organic Wineries have been on the rise since the ruling that wineries could sell and offer tastings directly to the public. Most of the time when you think of New York you do not think of wineries but you should.
The Finger Lakes Region of New York has over 100 wineries (though not all Organic). Did you know that New York is home of the first organic winery in North America? That is right Four Chimney Winery was established in 1980 and is located in Finger Lakes, New York. Four Chimney Winery goes above and beyond organic by even make some of the wine using biodynamic grapes.
Organic Wines, especially those of northern regions like New York State Organic Wines, have the highest concentration of resveratrol.
Four Chimney Winery also makes fruit wines which is a blend of fruit such as Blueberries, strawberries or raspberries with the grapes. This makes for a wine that most non-wine drinkers love. If you can not make it to the winery they will even ship the wine directly to you.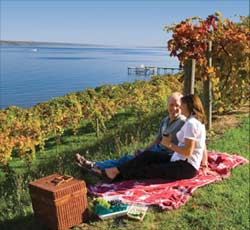 Another great organic and biodynamic winery in New York is Silver Thread. It was started in the early 1980's in the Finger Lakes region and shifted to the organic sustainable farming practices in the late 1980's.
It has received rave reviews from Travel & Leisure, Gourmet, The Wine Spectator and the NY Times to name a few. Silver Thread uses no chemical additives or processing aids, but does add small amounts of sulfur dioxide to the wines for stability.
There are more and more wineries in New York following the steps of these wineries and changing their practices to biodynamic and/or organic. With the more and more people joining the Green movement, New York's wine country will have an extensive list of Organic Wineries by the end of the next decade.